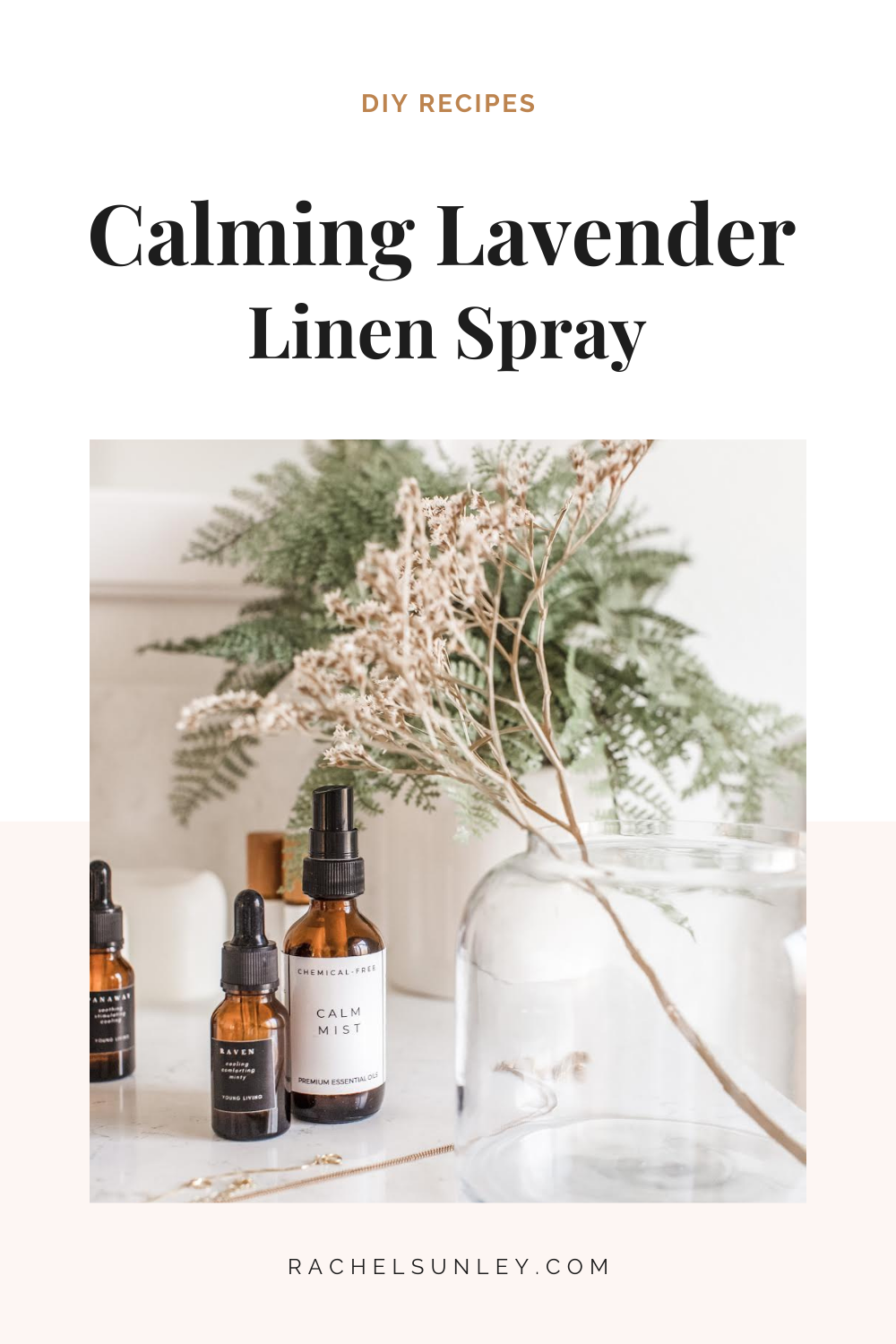 THIS POST MAY CONTAIN AFFILIATE LINKS. LEARN MORE ABOUT OUR PRIVACY POLICY.
Ok, so I may have a slight obsession with Lavender essential oil. I have lavender-infused body soap, lotion, chapstick, and facial serum, I diffuse it most nights to relax before bed, and I even make a homemade honey lavender lemonade that is to die for. Four years ago, I started making my own linen sprays to save money (I used to pay a hefty price for a tiny bottle from a fancy store) and I was shocked at just how easy it is to make at home.
So let's get started so you can learn how to freshen fabrics in your home for just pennies and with simple ingredients. This recipe requires only three ingredients and takes less than two minutes to make. It can be used to spray on sheets, blankets, carpets, sofas, and pillows. It will leave your entire home smelling clean and fresh, without any harmful synthetic fragrances. #Winning
A

BOUT THE INGREDIENTS
Lavender essential oil has a scent that's fresh, clean, and relaxing. It eases feelings of tension and stress by instilling an overall sense of calm. It promotes total body relaxation and supports a restful night's sleep.

Alcohol acts as a preservative. If you prefer to make this recipe without alcohol; use unscented witch hazel instead.



SUPPLIES
INGREDIENTS
24 drops Lavender essential oil
2 tablespoons organic grain alcohol or witch hazel
Distilled water
INSTRUCTIONS
Combine the Lavender and grain alcohol (or witch hazel) in a clean glass spray bottle and swirl to combine.
Fill with distilled water. Cap and shake well.
Store in a cool, dark place.
HOW TO USE
Spritz on sheets, blankets, towels, and other linens. Shake well before each use.
NOTES
With alcohol, this spray will last 3-6 months without the need for refrigeration.
What's your favorite way to keep fabrics smelling fresh?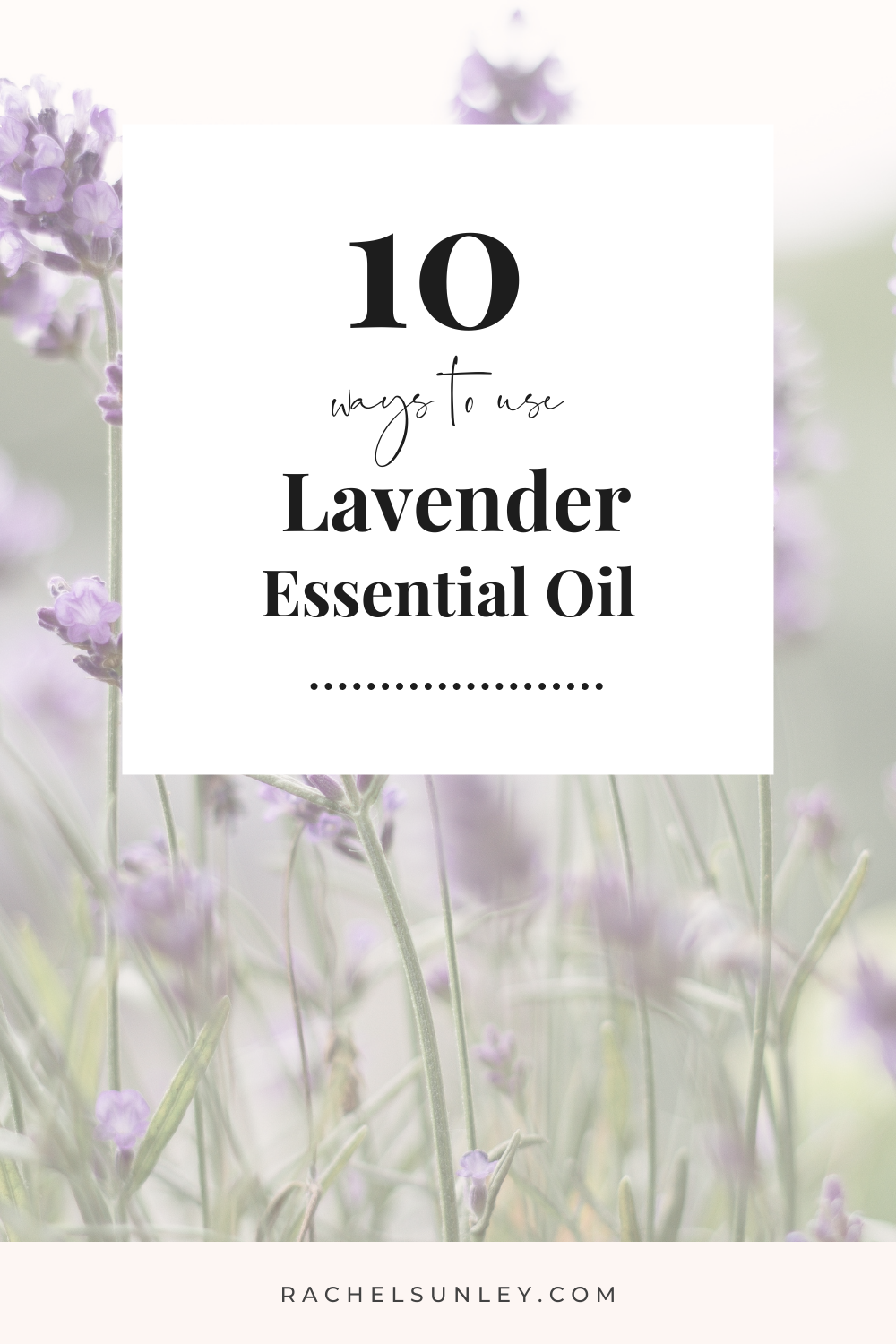 THIS POST MAY CONTAIN AFFILIATE LINKS. LEARN MORE ABOUT OUR
PRIVACY POLICY.
Raise your hand if you could use some emotional support right now?!? 🙋🏼‍♀️🙋🏼‍♀️
One essential oil I always turn to when I'm feeling stressed, anxious, or overwhelmed is Lavender.

Lavender is a must-have essential oil for every home. From skincare products to relaxing routines, Lavender is a highly versatile oil that can enhance many areas of your life.

Here are 10 ways to use lavender essential oil to support your mind, body, and emotions:


Diffuse 4-6 drops to calm the mind and relieve occasional nervous tension.


Diffuse 3 drops Lavender + 3 drops of Cedarwood or Vetiver one hour before bed and while your sleeping to promote deep, restful sleep. If you don't have a diffuser, place 1 drop of Lavender on your pillow.


Dilute 1 drop of Lavender with 1 tsp of organic cold-pressed carrier oil (e.g., jojoba, olive, coconut oil) and apply it to the back of your neck anytime you're feeling stressed.


Create a

Sleepytime Linen Spray

by adding 24 drops of Lavender and 2 tablespoons of unscented witch hazel or vodka to a 4 oz (120 ml) glass spray bottle. Fill with distilled water. Shake before spritzing on pillows, sheets, or linens.


Create a "Relax" Roller by coming 15-30 drops of Lavender essential oil with a carrier oil in a 10 ml glass roll-on bottle. Apply to wrists, neck, or chest as needed.


Use Lavender in your DIY facial oils. Here's a simple recipe: add 3 drops of Lavender and 3 drops of Frankincense to a clean and sterile 15 ml dropper bottle. Fill with an organic, cold-pressed carrier oil such as jojoba, rosehip, or sweet almond oil. Shake gently to combine. Apply to forehead, chin, neck, and anywhere fine lines and wrinkles may appear.


Add 1 drop to your favorite facial serum or moisturizer and apply to your neck and decolletage before bed.


Inhale directly from the bottle anytime you're feeling stressed, anxious, or overwhelmed.


Make relaxing bath salts by adding 5-7 drops of Lavender to 1 cup Epsom salt + 1 tablespoon carrier oil. Mix well to combine. Add 1/2 cup to a hot bath and soak for 20-30 minutes.


Diffuse 2-3 drops Lavender + 2-3 drops Lemon + 2-3 drops Peppermint to breathe easy during the spring and summer months. The aroma is divine and your house will smell amazing!
What's your favorite way to use Lavender essential oil?