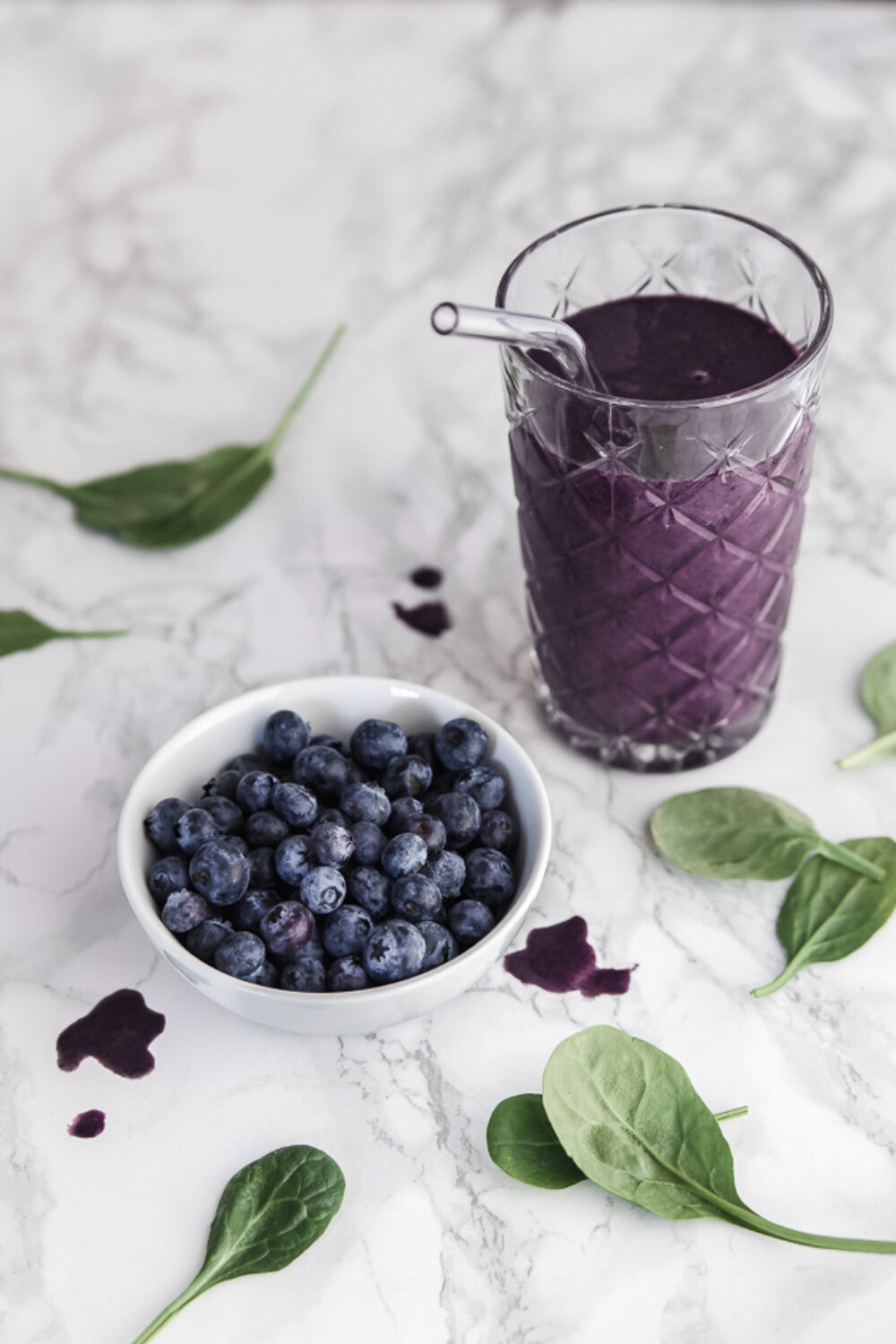 THIS POST MAY CONTAIN AFFILIATE LINKS. LEARN MORE ABOUT OUR
PRIVACY POLICY.
Stay calm, focused, and energized & counteract the effects of daily stress with this tasty Blueberry Muffin Superfood & Adaptogen Smoothie featuring three of nature's most powerful adaptogens combined into one convenient and affordable blend.
WHAT ARE SUPERFOODS?
According to Merriam-Webster's dictionary, a superfood is a food (such as salmon, broccoli, or blueberries) that is rich in compounds (such as antioxidants, fiber, or fatty acids) considered beneficial to a person's health (
1
). I love this definition because it reminds us of two things. First, superfoods are available to all of us privileged enough to have access to real, whole foods. Second, we don't need to travel to exotic locations across the globe or buy the latest supplement to experience the health benefits of superfoods. Most of us can choose to grow them in our gardens or purchase them at our local farmers' markets or grocery stores.
My Blueberry Muffin Superfood & Adaptogen Smoothie includes five superfoods (eight if you count the adaptogens) and is surprisingly simple to make. You can find most of the ingredients at an affordable price at
Aldi
,
Trader Joe's
, and
Thrive Market
, with organic options available.
WHAT ARE ADAPTOGENS?
Adaptogens are a class of herbs that help the body resist or "adapt" to physical and mental stress and fatigue (
2
). In other words, adaptogens can help protect your body from a wide range of stressors and restore balance. Adding adaptogens to your wellness routine can improve sleep, mood, energy levels, mental focus, immune function, and more (
2
,
3
).
While I'm not going to detail specific adaptogen herbs and how they can support the body in this post, it's important to know that not all adaptogens are the same. Some adaptogens, such as ashwagandha root, are more nourishing and calming, while others, such as Rhodiola, are more energizing (
4
). The adaptogens found in this recipe were selected to help calm your body and enhance your mood. Plus, they can be purchased together in one convenient powdered mix that's easy to add to any smoothie or beverage.
The adaptogens found in this recipe include:
Maca – A nutrient-dense root that boosts mood, energy, and fertility (

5

).

Ashwagandha – A mood-enhancing herb that protects the body from stress and anxiety (

8

).
ARE ADAPTOGENS SAFE?
Like any other herb or supplement, it's always wise to consult with your doctor before adding them to your wellness routine. While adaptogens are generally safe for most people – they can pose risks to those with nightshade sensitivities, allergies, or other underlying health conditions such as diabetes (
9
). Adaptogens should also be used with caution by individuals taking medications (
9
). If you are pregnant or nursing, please speak with your doctor or a qualified healthcare professional before taking any herbs and supplements, including adaptogens.
LEARN MORE ABOUT ADAPTOGENS
Want to take a deeper dive into the world of adaptogens? Here's a list of reputable, evidence-based articles and books to explore:
Blueberry Muffin Superfood & Adaptogen Smoothie
INGREDIENTS
INSTRUCTIONS
Place all ingredients in a high-speed blender and blend until smooth. Add more water or almond milk as needed (1/4 cup at a time) to achieve desired consistency. Enjoy immediately.
NOTES
Simple Swaps: