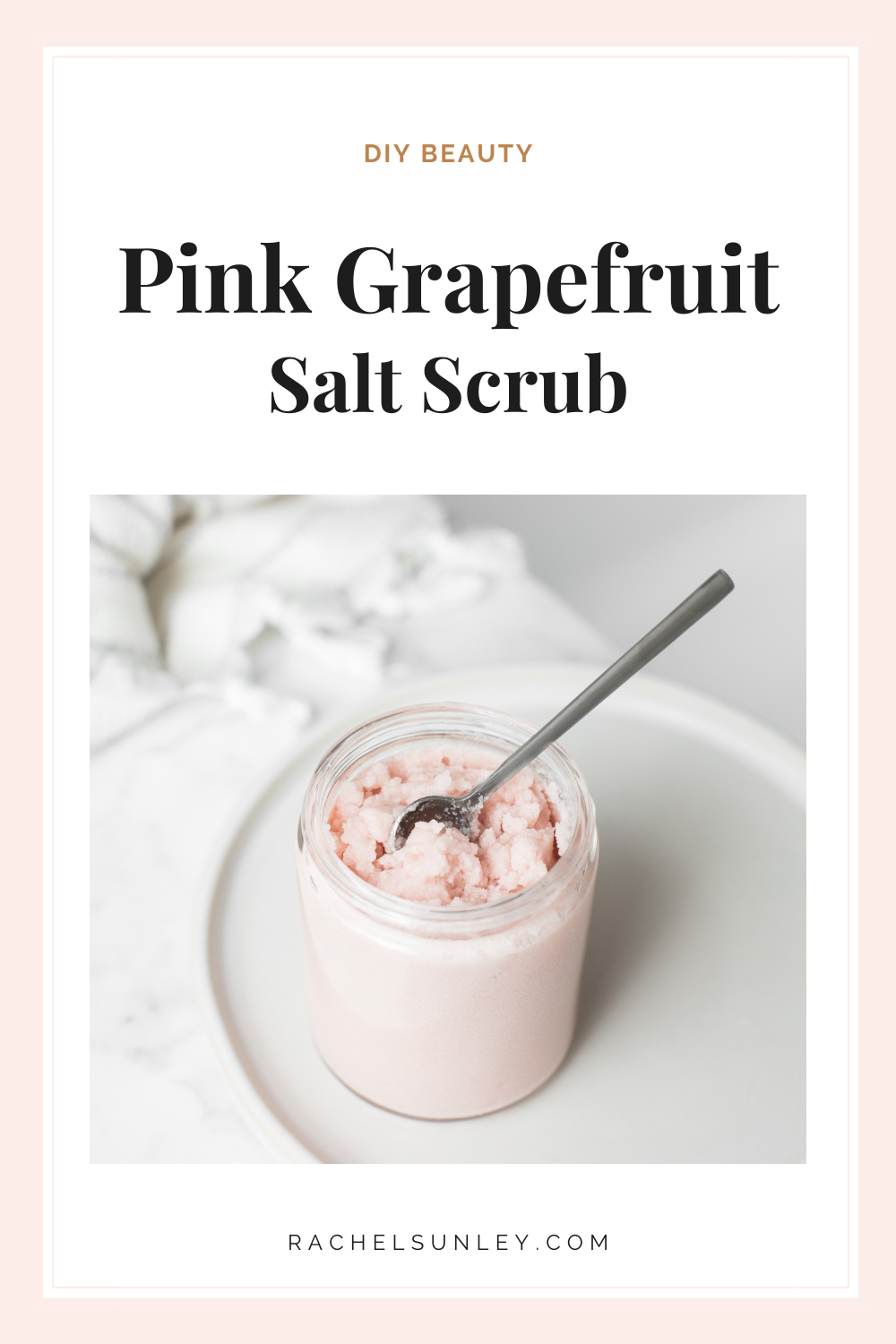 THIS POST MAY CONTAIN AFFILIATE LINKS. LEARN MORE ABOUT OUR
PRIVACY POLICY.
I wish you could smell this Pink Grapefruit Salt Scrub through your screen because it smells heavennnnnnnly! Seriously, friends, I'm in LOVE.
Before I share this super simple and inexpensive recipe, let's highlight a few health benefits... shall we?!
Massaging your body with a salt scrub helps remove dirt and dead skin, stimulate circulation and encourage new skin cells' regeneration. This process of removing dead surface layer skin cells (known as exfoliating) leaves the skin soft, smooth, and glowing.
The essential oils selected for this recipe also help support the circulatory system, lymphatic and immune system, and the appearance of healthy skin. Blended, they create the most uplifting and energizing aroma. You have to experience it for yourself!
Tip: When making your own salt scrub, it's best to use fine sea salt and avoid anything too coarse as you don't want to scratch or damage your delicate skin.
PINK GRAPEFRUIT SALT SCRUB
INGREDIENTS
INSTRUCTIONS


In a small glass or stainless steel mixing bowl, combine the sea salt and coconut oil.

Add the essential oils. Mix well to combine. Add more coconut oil, if needed, to achieve desired consistency.

Transfer the scrub to an 8 oz glass or PET plastic BPA-free container with an air-tight lid. Label and store in a cool, dark place.
HOW TO USE
Wet the skin. Gently massage salt scrub all over your body in circular motions. Once you've massaged your whole body (avoiding the face & neck), rinse your body with warm water.
NOTES
Avoid using salt scrubs on the face as the skin is too delicate and prone to scratching.

Use a clean spoon to scoop the salt scrub out of the container instead of wet hands. Adding water promotes the growth of bacteria, yeast, and mold.

Be sure to moisturize your body with a natural body oil or lotion to feed and replenish the newly exfoliated skin.

Use 2-3 times per week for best results. If you have sensitive skin, reduce to 1-2 times per week.
Tell me, do you exfoliate your body regularly? If so, what are your favorite products to use?!