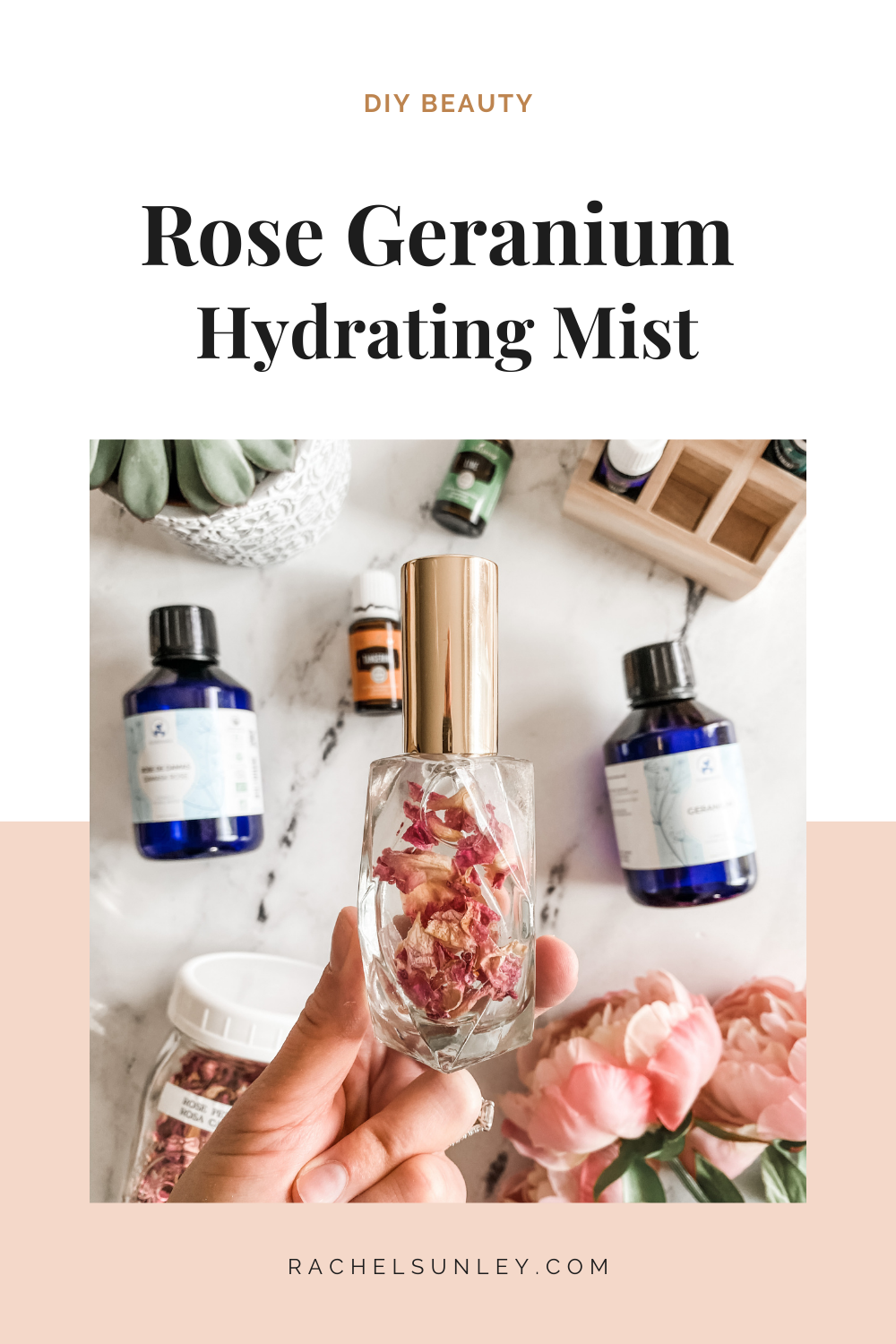 THIS POST MAY CONTAIN AFFILIATE LINKS. LEARN MORE ABOUT OUR
PRIVACY POLICY.
This simple 2-ingredient Rose Geranium Hydrating Facial Mist gives me all the dreamy feels. Who knew DIY skincare could be this simple?
Let's chat ingredients real quick because they pack a pretty punch!
Rose hydrosol is quickly becoming one of my favorite ingredients to work with. It helps to balance and restore the skin's pH levels, making it ideal for applying after cleansing. It also helps to balance sebum production (our skin's natural oil production), making it useful for both dry and oily skin.
Geranium hydrosol is both hydrating and astringent, helping to maintain the balance of sebum production.
Together, these beauties deliver a boost of hydration and bring balance to irritated skin. Since ditching conventional, alcohol-based toners and switching to hydrosols - I've noticed my skin is less red and more even-toned.
The aroma of this mist is incredibly uplifting yet relaxing. Try it for yourself and let me know what you think!
EQUIPMENT

INGREDIENTS
INSTRUCTIONS


Clean and sterilize all equipment.
Add rose and geranium hydrosols to a glass spray bottle.
Cap and shake well to combine.
HOW TO USE


Spritz on clean face morning and night. Follow with your favorite facial serum and moisturizer.
NOTES
Store in a cool, dark place (the refrigerator is best).

If your hydrosols do not contain a natural preservative, cut the recipe in half, store it in the refrigerator, and use it within 5-7 days.
If your hydrosols do not contain a natural preservative and you'd like to extend their shelf life, consider using a natural preservative like

Geogard ECT

/

Preservative Eco

. Follow the manufacturer guidelines for preserving hydrosols.