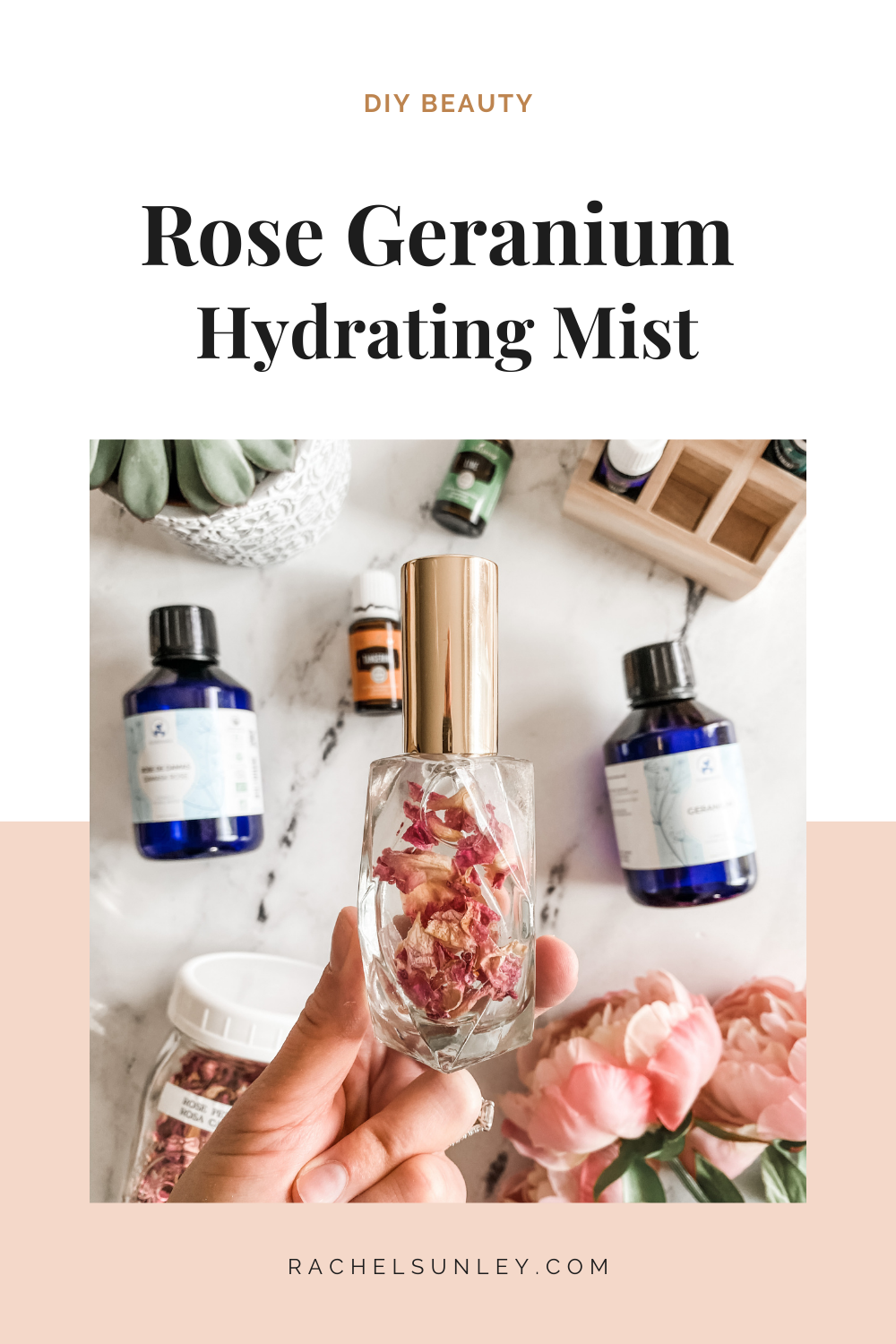 THIS POST MAY CONTAIN AFFILIATE LINKS. LEARN MORE ABOUT OUR
PRIVACY POLICY.
This simple 2-ingredient Rose Geranium Hydrating Facial Mist gives me all the dreamy feels. Who knew DIY skincare could be this simple?
Let's chat ingredients real quick because they pack a pretty punch!
Rose hydrosol is quickly becoming one of my favorite ingredients to work with. It helps to balance and restore the skin's pH levels, making it ideal for applying after cleansing. It also helps to balance sebum production (our skin's natural oil production), making it useful for both dry and oily skin.
Geranium hydrosol is both hydrating and astringent, helping to maintain the balance of sebum production.
Together, these beauties deliver a boost of hydration and bring balance to irritated skin. Since ditching conventional, alcohol-based toners and switching to hydrosols - I've noticed my skin is less red and more even-toned.
The aroma of this mist is incredibly uplifting yet relaxing. Try it for yourself and let me know what you think!
EQUIPMENT

2 fl oz (60 ml) glass spray bottle
INGREDIENTS
1.5 fl oz (45 ml) rose hydrosol

.5 fl oz (15 ml) geranium hydrosol
INSTRUCTIONS


Clean and sterilize all equipment.
Add rose and geranium hydrosols to a glass spray bottle.
Cap and shake well to combine.
HOW TO USE


Spritz on clean face morning and night. Follow with your favorite serum and moisturizer.
NOTES
Store in a cool, dark place (the refrigerator is best).

Formulation Tip: If your hydrosols do not contain a natural preservative, cut the recipe in half, and use it within 5-7 days.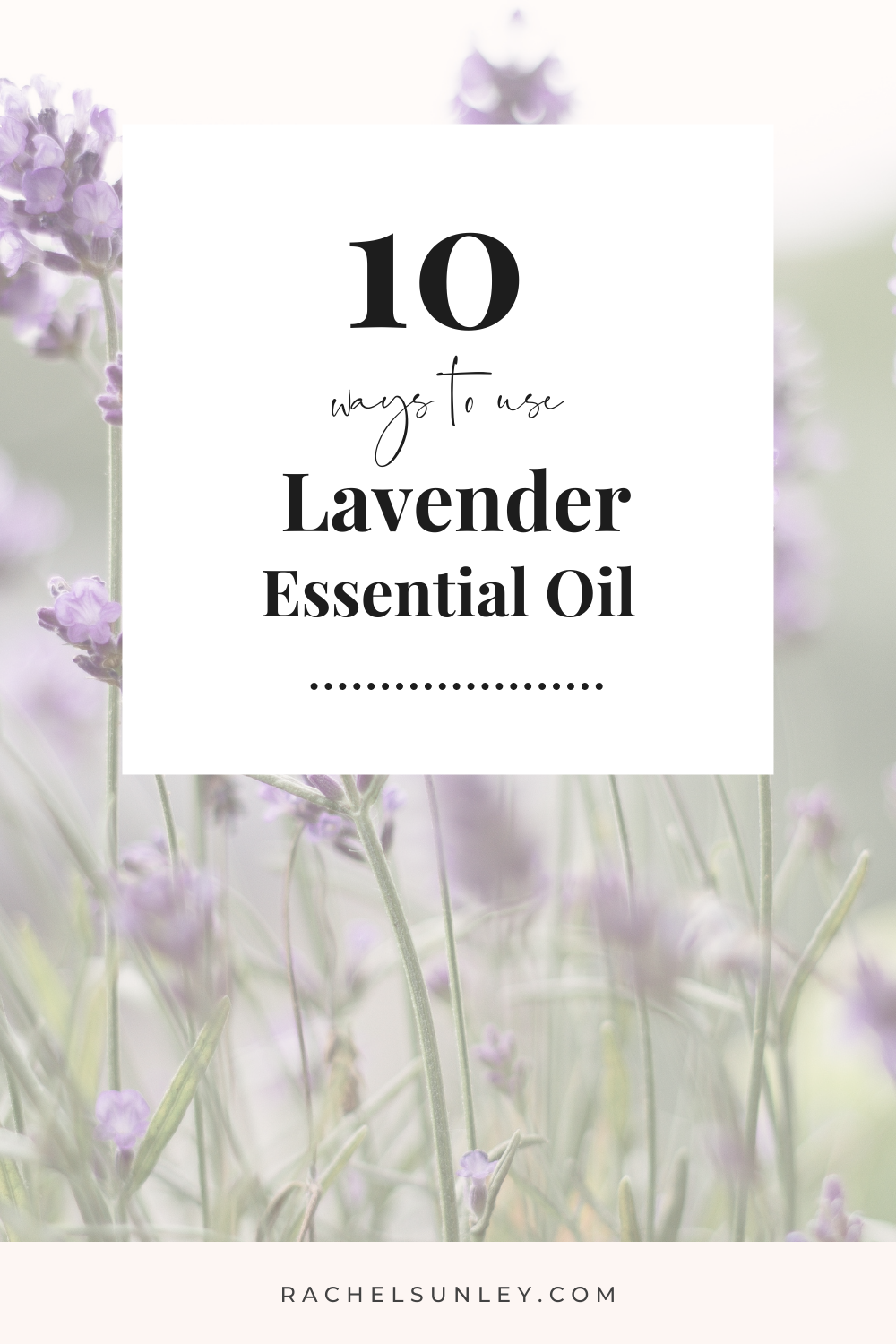 THIS POST MAY CONTAIN AFFILIATE LINKS. LEARN MORE ABOUT OUR
PRIVACY POLICY.
Raise your hand if you could use some emotional support right now?!? 🙋🏼‍♀️🙋🏼‍♀️
One essential oil I always turn to when I'm feeling stressed, anxious, or overwhelmed is Lavender.

Lavender is a must-have essential oil for every home. From skin care products to relaxing routines, Lavender is a highly versatile oil that can enhance many areas of your life.

Here are 10 ways to use lavender essential oil to support your mind, body, and emotions:


Diffuse 4-6 drops to calm the mind and relieve occasional nervous tension.


Diffuse 3 drops Lavender + 3 drops of Cedarwood or Vetiver one hour before bed and while your sleeping to promote deep, restful sleep. If you don't have a diffuser, place 1 drop of Lavender on your pillow.


Rub 1 drop on the back of your neck anytime you're feeling stressed. If you have sensitive skin, dilute 1 drop with 1 tsp of organic cold-pressed carrier oil (e.g., jojoba, olive, coconut oil) before applying it to your skin.


Create a Sleepytime Linen Spray by adding 20 drops of Lavender and 1 tablespoon of unscented witch hazel or vodka to a 2 oz (60 ml) glass spray bottle. Fill with distilled water. Shake before spritzing on pillows, sheets, or linens.


Create a "Relax" Roller by coming 15-30 drops of Lavender essential oil with a carrier oil in a 10 ml glass roll-on bottle. Apply to wrists, neck, or chest as needed.


Use Lavender in your DIY facial oils. Here's a simple recipe: add 3 drops of Lavender and 3 drops of Frankincense to a clean and sterile 15 ml dropper bottle. Fill with an organic, cold-pressed carrier oil such as jojoba or sweet almond oil. Shake gently to combine. Apply to forehead, chin, neck, and anywhere fine lines and wrinkles may appear.


Add 1 drop to your favorite facial serum or moisturizer and apply to your neck and decolletage before bed.


Inhale directly from the bottle anytime you're feeling stressed, anxious, or overwhelmed.


Make relaxing bath salts by adding 5-7 drops of Lavender to 1 cup Epsom salt + 1 tablespoon carrier oil. Mix well to combine. Add 1/2 cup to a hot bath and enjoy!


Diffuse 2-3 drops Lavender + 2-3 drops Lemon + 2-3 drops Peppermint to stay calm and breathe easy during the spring and summer months. #seasonalsupport
What's your favorite way to use Lavender essential oil?